Stokke MyCarrier & MyCarrier Cool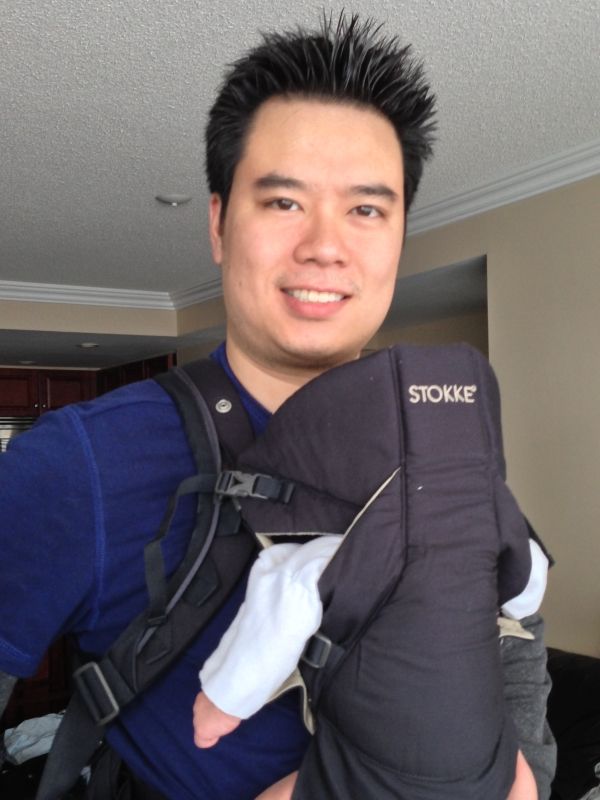 As a gadget geek, you can expect that my enthusiasm will spill over to baby gear as well. Once I found out that we were expecting, I did quite a bit of research into the vast array of gadgets that are available for parents. There is just so much information out there and it doesn't ever end.
Today, I will be talking about Stokke's MyCarrier and MyCarrier Cool.
I purchased a MyCarrier when I learned about Stokke. We ended up buying a lot of their stuff because we really like the design and quality of the material. More on their other stuff another time! ;-)
But before I continue, I don't know what rules there are about blogging and talking about brands. But I would like to say that I am not currently employed or sponsored by Stokke. My views are my own. (To the other bloggers out there, if there are any tips about blogging and products, do let me know in the comments below. Thanks!)
Anyways, with the MyCarrier, I really liked the concept that I can carry Evelyn in 3 different ways as she grows up. I know that my parents had a carrier for me when I was a little kid and I see people carrying their babies around instead of using a stroller or car seat. After reading the reviews floating around the web and just doing some research online, I went to the store to check it out. I was really impressed at how all the straps work and connect together to get you 3 different configurations. It felt like I was playing with transformers again! From my experience as a student who had to carry lots of heavy textbooks, I thought that it was a pretty sturdy piece of gear and it gave support in the right places for both the passenger and the carrier.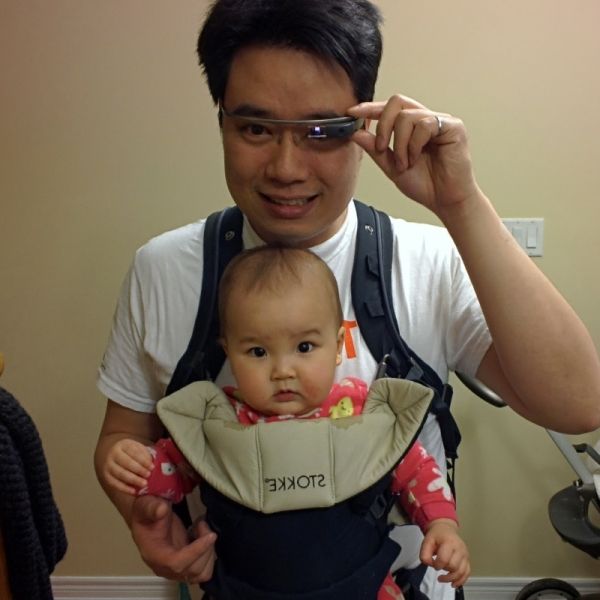 As with Google Glass, a carrier really frees up your hands so that they can be doing other things. And in some cases, I think that it also provides the baby with a unique perspective of your day-to-day activities, which I'd like to think that they can learn from. It probably has contributed to her picking up on how light switches work. Whether I was wearing it while doing chores around the house, mixing and mingling at a BBQ, walking outside, sitting in front of my computer working, or watching TV, my shoulders and back didn't feel tired. Evelyn was safely and securely buckled into the harness. Her force of her weight all distributed to the proper places and padding has been carefully distributed to those places without adding too much bulk and weight.
Carrying Style
You can carry the baby in 3 ways with the MyCarrier: 1) Facing Inward, 2) Facing Outward, and 3) Back Carrying. I really like that each of the 3 ways has a specific time and purpose. For instance, the Facing Inward method is best used with the baby is young. It allows your child to put their head on your chest and listen to your heart beat. It also provides your child with the neck support that they need in the early months via a piece that surrounds the baby's head so that it doesn't fall backwards. That piece cleverly flips downwards to reinforce the front of the carrier when the baby is the Facing Outward position. In this position, the baby should be able strong enough to keep their neck and head up. It does a great job of allowing your child to see the world similar to the way you see it. The final way is the Back Carrying way, and it basically turns into a backpack that you can put your kid in. Think Yoda in the Empire Strikes Back. Similar to the Facing Outward way, it gives the child a unique perspective of your day-to-day. Moreover, they added an additional aluminum support bar to help distribute the weight along your back.
My Thoughts
I think overall, like with all their products that we own (Xplory, Tripp Trapp, MyCarrier), Stokke did a great job designing and building this product. It is very sturdy and puts my mind as ease about the safety of our child. The products are very functional and they are also very stylish. Instinctively, people ask what product that is because they see the quality and the thought that has gone into developing it. The straps, buckles, and carabiners are very sturdy and I feel like I can run around wearing Evelyn without fear of her falling out.
Instructions
The instructions booklet was very clear with drawings that show you how a child should sit in the harness. Out of the box, it is set up for front carrying with your child facing inwards. Don't worry about the other piece and the metal rod, that's for back carrying. You can go from inward facing to outward facing with a couple of simple steps and rolling up the front harness to expose where your child's legs would hang out of. There is a little bit of getting used to, in terms of acrobatically maneuvering your child into the harness, but after a couple of times, I was a pro. Often times, I'd keep the non-dominant handed side pre-buckled and strapped and I just slip Evelyn into the harness and buckle my right side up. To switch to the back harness, you have to take apart the front part, and put in the metal rod with that 3rd piece that comes in the box. You have to set everything up with your kid inside because you sling it over your shoulders like a backpack. While I haven't tried carrying Evelyn in the backpack mode, I keep imagining that I would be like Luke Skywalker carrying Yoda running around and I can't wait until I can carry Evelyn like that.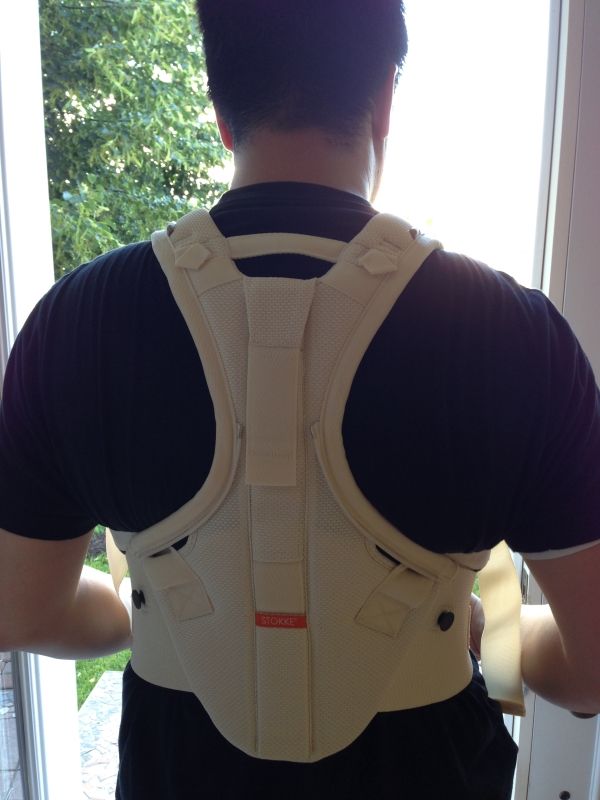 MyCarrier Cool
A more recent release from Stokke is the new MyCarrier Cool. It's basically, the MyCarrier, but with fabrics and slight changes to the design so that it accounts for warmer climates. I don't know about where you live, but the weather here has been pretty crazy, some days its cool, some days it is super hot, so I welcome the idea of a version of the carrier that breathes better.
I came across it because I had entered a Father's Day giveaway from Stokke North America last year. They were holding a draw for a few MyCarriers for Father's Day. I had actually forgotten about it until I got an email that said that I had won one. (Thanks @StokkeBaby!) Since I had the original one already, I decided to get the Cool version that was just released. It only came in one color, Cream, but it was in perfect contrast to the Navy one that we already had.
The MyCarrier Cool doesn't have the pockets that is on the regular one. I don't really miss those, but some might as it was a good place to put extra napkins and keys when out for a walk. It is also made of lightweight and breathable materials.
I would recommend both the normal and the cool versions of the product to people who would like to experience wearing their child around. I can't wait to wander around the trails in my area with Evelyn now that it's a bit warmer.
E